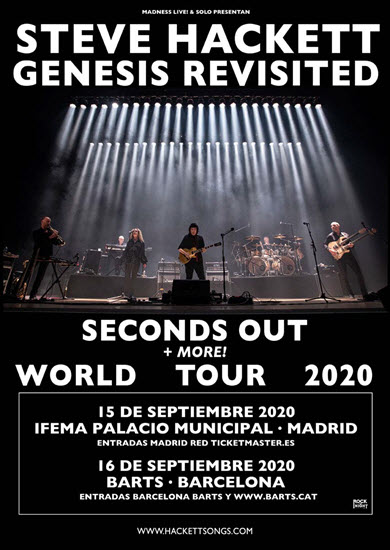 STEVE HACKETT Genesis Revisited a Barcelona el 16/09/2020
El principal guitarrista de Genesis, STEVE HACKETT, repasa su carrera con la mítica banda en una esperadísima gira "Genesis Revisited" este próximo mes de septiembre.
Tras facturar discos como "Selling England By The Pound" (uno de los favoritos de John Lennon), y aportar al mundo de la guitarra esa especial sensibilidad que sólo Hackett atesora, por fín, podremos verle en Madrid y Barcelona desgranando todos sus grandes éxitos con Genesis.
Los solos de temas como "Firth of Fifth" o "Fountain of Salmacis", por nombrar algunos, son simplemente memorables. Y Hackett a inflamado de nuevo la llama de la pasión por Genesis en su firme decisión de mantener su herencia viva.
Este 2020 Steve ha anunciado que se centrará en "Seconds Out", directo de Genesis grabado en Palais de Sport en París, en 1977. Como es habitual, Steve comenzará con una variada selección de temas de su extensa carrera en solitario, seguida de una segunda parte donde interpretaré "Seconds Out" al completo en directo. Y todo ello, acompañado por algunos de los mejores músicos de directo del planeta.
Simplemente, no te lo puedes perder, ¡no te defraudará!